PoolTogether is the front door to decentralized finance on Optimism.
Since the protocol deployed in July of 2022, its proven to be one of the most popular apps on Optimism. Currently, there are over 23,000 unique depositors, and the protocol is
Why is that?
PoolTogether is a global savings account with superpowers. It's a DeFi protocol enabling anyone to become more wealthy by depositing to save funds while having the chance to win thousands of dollars in prizes every day. No hidden fees, no liquidations, and no loss.
As a protocol for prize savings, PoolTogether provides a secure base layer for beginners to explore decentralized finance while offering experienced users a stable backup plan at the same time. The protocol is good for everyone. After the reveal of PoolTogether's fresh app design, it's now time for another refresh:
More Rewards for PoolTogether Depositors
Today $OP rewards have been extended for all PoolTogether depositors on Optimism until March 28th, 2023 🌊🏆🔴✨
This means in addition to the chance for prizes, all depositors will also be receiving OP tokens for their deposits. Currently, this equates to a roughly 4.25% APR in guaranteed rewards!
The rewards accrue in real-time and are claimable every Tuesday at 7 pm UTC in the PoolTogether app.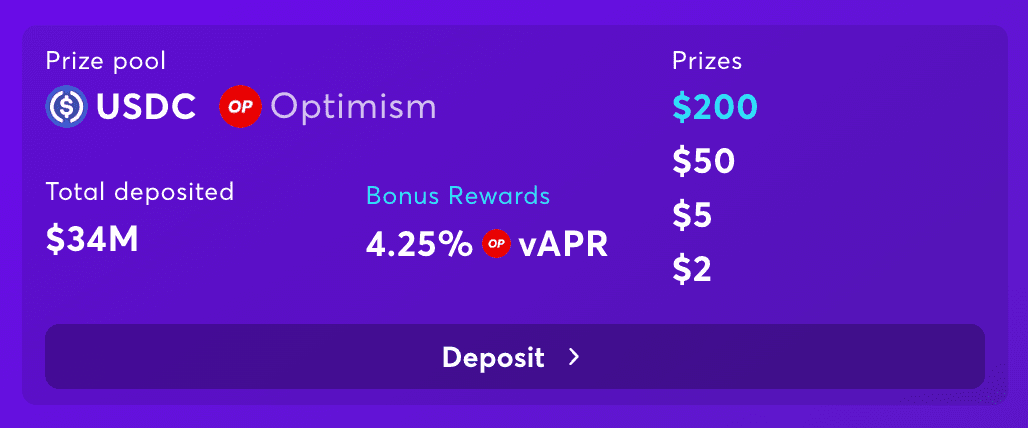 New to Optimism and need help getting started? Read how to make a deposit here.
Winning, together.
As PoolTogether grows, it gets better. PoolTogether's true potential lies in the collective sum of many. Join us by the pool in our mission to grow prizes for everyone.
The next milestones ahead:
More than 30,000 unique Optimism depositors

More than $40 million in Optimism deposits
Ready to dive into Rewards?
🏆 If you're a Pooler already, deposit more here
🏆 If you still have any more questions, join our community on Discord
🏆 If you want to stay up to date about PoolTogether, follow us on Twitter
---
The PoolTogether protocol is non-custodial and autonomous, be sure to understand the risks of using decentralized finance software before using it.